Brandon K. Meyer, Esquire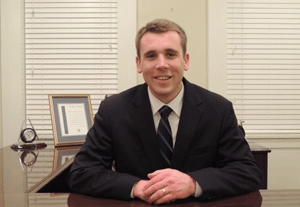 Attorney Brandon K. Meyer has been practicing law since 2006. He received his law degree from the Penn State Dickinson School of Law and graduated magna cum laude with a political science degree from Allegheny College in 2002.
After graduating from law school, Attorney Meyer clerked for the Honorable John D. Kuhn, President Judge of the Adams County Court of Common Pleas in Gettysburg, Pennsylvania. Upon completing his clerkship, Attorney Meyer joined a general civil practice firm in Gettysburg and practiced law there for three years. During his practice in Gettysburg, Attorney Meyer served as the solicitor for McSherrystown Borough and the Adams County Prothonotary.
Wanting to come back to his roots in Southwestern Pennsylvania, Attorney Meyer joined a general civil practice firm in Waynesburg, Pennsylvania where he began serving the legal needs of clients in Greene, Washington, and Fayette counties. After three years practicing in Greene County, Attorney Meyer founded Meyer Law Office in 2013 and began practicing as a solo practitioner.
Since 2010, Attorney Meyer has served as the Greene County Mental Health Hearing Officer, a position in which he has presided over hundreds of involuntary commitment 303 and 304 Petitions. He also has been a court-appointed divorce master in Greene County since 2010 and served as a court-appointed discovery master on complex civil litigation matters. He is also the solicitor to Greene County's Sheriff, Brian Tennant, along with being the current President of the Greene County Bar Association.
Through all of the above, Attorney Meyer has gained valuable legal experience which he shares with his clients on a daily basis. Beyond the Courtroom, Attorney Meyer has established his reputation in the community through involvement in his church, youth sports, and local volunteer and non-profit organizations. He has served on the board of directors for the Greene County Historical Society and AMI, Inc. of Greene and Washington Counties. He is also an active member of St. Ann's Parish in Waynesburg, PA and a member of Knights of Columbus Council 12703. Attorney Meyer has sponsored local teams with the Greene County United Soccer Club and the Waynesburg Pony Baseball Association. He has also been able to share his passion in sports by coaching his children's soccer and baseball teams.
Attorney Meyer resides in Waynesburg and has also been building his team at home with his wife and four children.